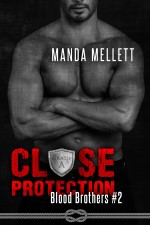 CLOSE PROTECTION

Jon

In my line of work making a mistake could mean someone ends up dead.

I knew from the start I shouldnít have assigned myself to provide personal protection for the woman whoís being stalked, but as soon as I met Mia, something about her calls to me and I wasnít about to let anyone else get close to her. But I was selfish. I failed, again. And yet again, someone else paid the price for my failure.

Iím a Dom; I should have known better.



Close Protection (Blood Brothers #2)
Mia

For seven years Iíve been dead inside. Oh, Iíve been breathing air and walking around just like anyone else, but something was missing, I just didnít know what.

And now someoneís stalking me, threatening me, which brings him into my life. Not just any man, but a Dom, and now heís become my protector. He makes me feel things I never believed I could ever feel. But the deeper I fall for him, the more he pulls away. And when it all goes wrong he blames himself, and I lose the first and only man I could ever love.

But Iím going to get him back.

Copyright: Trish Haill Associates 2023