Official Review from The Romance Reviews for Close Protection:

I can not even begin to explain how beautifully in depth this series is. The mystery, action, romance that are woven together to give you something to delve your heart, mind and soul into. Stephen King is a black or white author; you either love his work or you do not understand the complex horror novels he gives us. Manda Mellett gives us that as an author.

Start with book one (you can check out my review for that one as well), you really need to start with the first. These are not your lazy Sunday afternoon romance novels.They are words, sentences, pages full of mystery, action, love, I cannot even think about the BDSM scenes (too much while I am at work) and sex you can feel, smell and taste. You are there, you are sucked in to the very end.. until you realize damn that was some other woman, not me. It will rock your world. Do not hesitate to read
Blood Brothers books one and two, then you will be in my shoes waiting with zero patience for book three!



Amazon Review 5*

I think this is one of the best books I've ever read. I've been through every emotion , I even felt sick a couple of times . Mia is such an amazingly strong character & Jon is a very hot protective Dom. The story is so well written that you feel like the story is playing out in front of your eyes. So much happens in this book, there is not one lull in the story from beginning to end. Your heart will get ripped out but then lovingly put back together again . Absolutely love Jon & Mia & their story. If you love this book genre then this story will definitely be up the top of your favourites list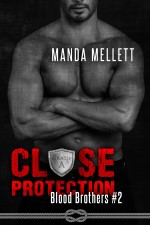 CLOSE PROTECTION

Jon

In my line of work making a mistake could mean someone ends up dead.

I knew from the start I shouldnít have assigned myself to provide personal protection for the woman whoís being stalked, but as soon as I met Mia, something about her calls to me and I wasnít about to let anyone else get close to her. But I was selfish. I failed, again. And yet again, someone else paid the price for my failure.

Iím a Dom; I should have known better.



Close Protection (Blood Brothers #2)
Mia

For seven years Iíve been dead inside. Oh, Iíve been breathing air and walking around just like anyone else, but something was missing, I just didnít know what.

And now someoneís stalking me, threatening me, which brings him into my life. Not just any man, but a Dom, and now heís become my protector. He makes me feel things I never believed I could ever feel. But the deeper I fall for him, the more he pulls away. And when it all goes wrong he blames himself, and I lose the first and only man I could ever love.

But Iím going to get him back.

Copyright: Trish Haill Associates 2019