Forthcoming books....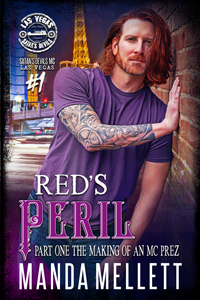 Releasing Oct 20 2021
Red's Peril Part 1: The making of an MC Prez (Satan's Devils MC Vegas #1)
Available for pre-order on
Amazon
Blurb
Iíd left my hometown seeking adventure.
I hadnít much ambition, my main aim being to find somewhere warmer where I could ride my motorcycle all year around. I saw my future as most men do, finding a steady job, eventually getting married and spitting out a couple of kids.
Fate seemed to comply, throwing into my path my soul mate only a few hundred miles from my home. But it wasnít to be. Iíd found her, loved her then lost her, all in a matter of days.

Iíd ridden on alone until the gods stepped in once again and put me in the sights of the Satanís Devils MC. Despite my initial reluctance, I was soon accepting the prospect patch, and from that point on, never looked back.

I rose through the ranks, eventually becoming prez of the Vegas Chapter of the club. Iíve gained respect and loyalty from my brothers, and in many ways have everything that I want.

Except, Iíve never quite lost my dream of finding my own old lady and of starting a family. But while life on the whole has been good to me, it seems my destiny is to ride through it alone.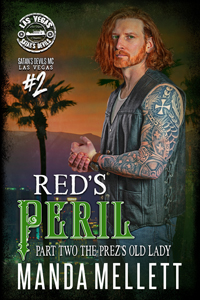 Releasing Nov 29 2021
Red's Peril Part 2: The Prez' Old Lady (Satan's Devils MC Vegas #2)
Available for pre-order on
Amazon


Blurb:
Oh, the decisions we make when weíre young which with age we come to regret. If I could have a do-over, Iíd never have walked away. But I did. It was done, and my actions couldnít be taken back.
I was only twenty, and I believed I had time to find my special one. Then life threw me a curve ball that altered all my plans. The result being I could never forget the man Iíd met so briefly on the road.

The question of what would have happened if I stayed with him is constantly on my mind. What would my life have been like if Iíd been braver? What if I hadnít walked away?

Would I have ended up a weary thirty-five-year-old croupier in a Vegas casino with no man by my side?

When fortune offers me a second chance, it comes with strings attached. The man Iím attracted to is the prez of the Satanís Devils MC, whereas Iím a law-abiding citizen whoís never broken a single rule in my life.

Is there any way we could make a future together? Or should I run and never look back?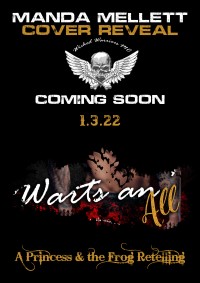 Releasing Jan 3 2022
Warts an' All
Wicked Warriors MC Arizona Chapter
Bleeding Souls saved by Love (Wicked A Bad Boy Biker Motocycle Club Romance)
Available to pre-order at
major retailers

Iíve seen her around with her airs and graces, making out she was better than the rest of us. Head held haughtily high, nose in the air as if the everyone else was beneath her. She had it all, a rich daddy, a fine mansion, fast cars. Yeah, that princess wanted for nothing.

Iíve seen her, but sheís never seen me. Until she needs my help that is. Then she comes crawling, words sticking in her throat as I make her beg.

Grovelling to a biker clearly hurt. Every word out of her mouth was a lie. She said sheíd thank me with no thought to paying her debt.

But I know not everything in her perfect life is what it seems. Iíve got the power to bring this snooty princess down to my level. Iíve got her daddy in the palm of my hand.

She owes me, but his debt is bigger. He wonít think twice giving her to me as payment.

Love? Nah, that doesnít come into it. Iíll show her who gets looked up to around here, and itís not her.

Copyright: Trish Haill Associates 2021