Drummer's Beat (Satan's Devils MC #2)
Drummer's Beat


Drummer

As President of the Satanís Devils MC I can have every and any woman I choose, and do. Thatís how I got my name. But Iím happy with the variety, I know Iíd never find a woman my equal to be my old lady.

Then I meet her, on the road to my compound, standing beside a goddamn Vincent Black Shadow, one of the most iconic bikes of all time. When she tells me sheís Viperís daughter, I know she has to be lying. Thereís no way heís fathered a child, not one of her age, itís just not possible. I canít deny an attraction to her, but if sheís who she says, sheís the one woman Iím unable to have. I canít go against a brother.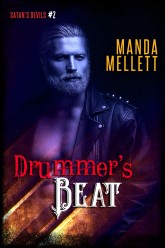 Copyright: Trish Haill Associates 2023
Sam

Trouble, Iíve found, comes in many forms. Trouble in the shape of the surly president of this MC who just wants me gone. Trouble in that my father denies our relationship, and the trouble thatís followed me the fifteen hundred miles Iíve ridden to come to find my surviving parent. And when my past catches up with me, I need the protection of the MC to keep me safe.

Iíve never been a girly girl and not particularly interested in finding a man. But Drummerís something else, and denying my attraction to him might be my biggest battle of all.

Available to purchase at your favourite store:
Click image to buy