MOUSE TRAPPED




Mouse Trapped (Satan's Devils MC #9)

Copyright: Trish Haill Associates 2019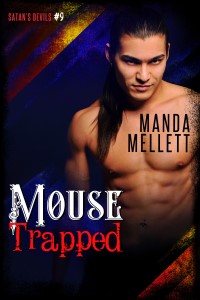 Mouse

I rescued Mariana. I wanted her.

I couldn't have her. Mariana doesn't need a man like me in her life. A man who rides with an MC.

When she comes up against her most powerful enemy, Mariana needs someone to help. Why do I feel this draw that it should be me?

Why do I care?

Why do I feel this need to save her? To sacrifice everything. Even marry her.

Mariana

I've been so careful. Done everything right. Obeyed every law. Given up my chance to be with the one man who intrigued me.

Despite everything I do they catch up with me.

I've no one to call on but the half Navajo who'd come to my rescue. Would, could, he help?
The man I only saw once before they put me behind bars.


One of the 5 star reviews on Amazon:

This is the ninth book in this series, and the first one which I have had the pleasure of reading. My word, I will certainly be reading the rest in this awesome series. Mouse is the MC's computer whizz guy, and Marianna is a strong woman who is raising her little brother by herself, and these two cannot deny the chemistry between them. No spoilers; this is a must read, you will not be disappointed. This is a well written flawless story, which is unique as it covers the sensitive subject of multi-racial stereotypes and discrimination. I was totally captivated throughout this addictive page turner, and I cannot wait to catch up with more of this talented authors' work, which I highly recommend for all readers.