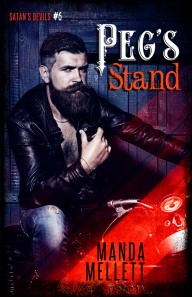 PEG'S STAND


Peg

Iíve never been one to use the sweet butts like my brothers. Iíve waited for someone whoís special, the woman whoíll ride with me through life.

Iíve sat back and watched as one by one my brothers are being pulled away from their whoring ways, finding their old ladies and leaving their bachelor life behind with no regrets.

Thatís all Iíve ever wanted. Someone to be mine.

Iím thirty-seven years old, sergeant-at-arms of the Satanís Devils MC, and I still havenít found that one woman. The clubhouse is filling with babies, even the prez has his son. Will I ever find what Iím looking for? Somewhere, out there, is there someone for me?




Darcy

Iíve fought for my place in this world. Iím a firefighter, capable of doing my job just as well as any man. But Iím a woman, and the unexpected violence toward me came as a shock. I acted on my impulse to run. And thatís when Peg came to the rescue and immediately took charge.

At first, I didnít fight the strange attraction between us, but soon Iím forced to make choices. How can I give up the career Iíve worked so hard for, for a man Iíve only just met? Sure, the sex is off the scale, but being with Peg will just cost me so much.

As things heat up around the clubhouse, Iíve got some decisions to make.




Copyright: Trish Haill Associates 2023
Available to purchase at your favourite store:
(click image to buy)