Copyright: Trish Haill Associates 2023
Available to purchase at Amazon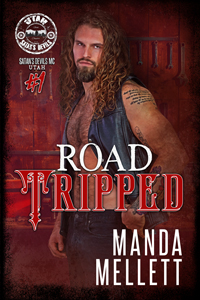 Road Tripped (Satan's Devil's MC Utah #1)

What do you do when your hopes and dreams literally come crashing down around you? One split second and something that wasnít your fault, stops you from participating in your chosen sport just when youíre nearing the top?

Another riderís misjudgement, and my trial bike competition days were over.


I was angry; I admit it. I love my MC brothers, but they couldnít understand. I could still ride a bike, allowing me to stay in the club, but I could no longer compete.

Drummer decided to give me something else to think about, and temporarily gave me some distance from Tucson. It was a simple enough task-make my way, of necessity slowly, to Utah, and check that chapter out.

Sure, the Utah club was friendly enough and never hesitated to support other chapters, but they were secretive. Drummerís instruction was to discover what went on behind closed doors, and for me to return with the assurance they were following the Satanís Devils rules and regulations.

The time on the road would give me a chance to clear my head, my welcome assured at my destination as they wore the same patch on their backs. Then Iíd return home, hopefully with my mood improved.

Neither Drummer nor I had anticipated the mishaps along the route, nor that there was a possibility I might not make it back alive.