Rock Bottom


Rock

Iíve committed the ultimate crime, Iíve stolen from my MC. Now, Iím out in bad standing.
Cast adrift from all men I called Brother, I join a rival MC. They have welcomed me and want me to help them take out the Satanís Devils.

Having to start from the bottom as a prospect is a shit job, but Iím grateful theyíve given me a new home in exchange for information about my old club.

My new brothers are a completely different type of club, and as I betray the Devils, I slowly learn their secrets. Including what they keep in the basement.




Copyright: Trish Haill Associates 2021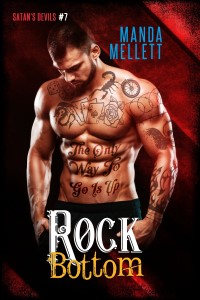 Becca

Iíve been kidnapped. Kept chained in this filthy place which reeks of blood. I canít remember the last time I showered or had a change of clothes, and Iím fed only enough to keep me alive.

As time passes, my hope of rescue fades. But then a new man appears bringing me my food and emptying that disgusting bucket Iím forced to use. Could he be my ticket to escape? Or is being a member of this hateful motorcycle club more important than saving me?


Available to purchase at your favourite store:
(click image to buy)