Second Chances (Blood Brothers #3)

Copyright: Trish Haill Associates 2023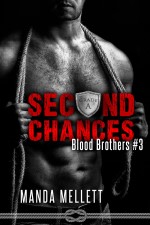 SECOND CHANCES

Zoe

Iíve become that woman. The woman who lets herself fall under the spell of a man who only gradually reveals the monster that lies beneath his civilised veneer. By the time I realise I have get out of this abusive relationship, itís already too late. Ethan St John-Davies, one of the richest and most powerful men in the UK has me in his clutches and it will be virtually impossible to escape. I need to have all my wits when I leave him, and wth an ever increasing bounty on my head, my only chance at freedom is to take a job far away in the Arabic state of Amahad.


Promising myself Iíd never fall for a dominant man again, I meet Kadar and find it hard to fight my attraction to him. But whatever my developing feelings, thereís no chance for a future with the emir. He is already married - to his country, and soon to be wed to a political bride.

Kadar

After the sudden, unexpected death of my father, at just thirty-four Iíve become the emir. And Iím far from ready to take on that role. Daily I have to try to prove myself to the tribespeople who question my ability to rule. Needing to appease them and to avoid a revolt I agree to marry a woman of their choice. But then I meet Zoe and take her under my protection. Little do I know as I teach her the difference between Dominance and abuse that she will find a place in my heart. But I canít afford to get close to her; my destiny is to be wed to someone else.

As Amahad plunges into a civil war, I find myself fighting not only some of the ruling desert sheikhs but also the man who would do harm to the woman Iíd do anything to protect. As I struggle to keep my country united, Iím in a race against time to keep the woman Iíve come to love alive, even though she can never be mine.