Slick Running (Satan's Devils MC #1)
Slick Running


Slick

Like my brothers, Iím devastated when disaster hits the Satanís Devils MC. Shocked and angry, there couldnít be a worse time to be contacted by the woman Iíd briefly made my old lady, only for her to run the moment things got too tough. Sheíd left me with no explanation, and in my book that was enough to cut her out for good. When she finds herself in trouble Prez makes me go see her and offer my help. But only on the condition she knows what was once between us will stay dead and buried. There had been no good reason for her to run, had there?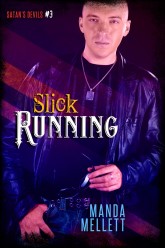 Ella

I didnít run from Slick, I ran from his club, only to find the world outside their protection can be just as dangerous. And now, to protect my little sister, Iíve no alternative other than to ask Slick for help. Itís not good timing, the Satanís Devils have just lost one of their own.

I understand why Slick wants to keep his distance, I Ďd hurt him when heíd put everything on the line, acting out of character and claiming me as his old lady. A gesture Iíd thrown back in his face. But Iím not the same woman he first met. There are things he doesnít know.


Copyright: Trish Haill Associates 2023
Available to purchase at your favourite store:
(click image to buy)